[Return to Thumbnails | Previous Page | Next Page]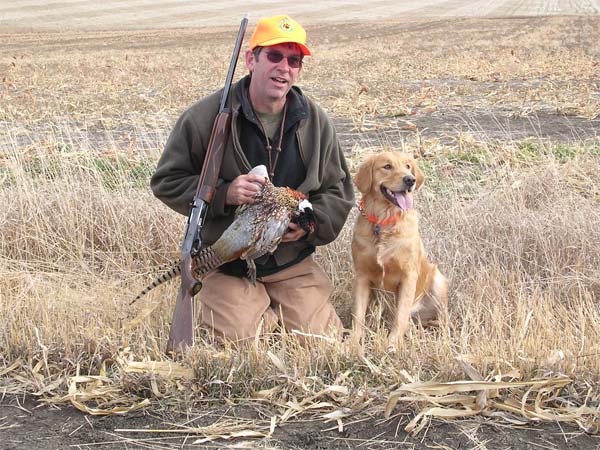 Our 2005 South Dakota pheasant hunt is now history; I am sure I can speak for
everyone there and say we all had an absolute ball!

This picture is very special to me and I hope you all will appreciate it too.
Wrigley is one of Star's pups from an earlier litter with Blaze in Atlanta
(see the video section). Wrigley went on to live with Frank & Dottie Pinn in
the Chicago area. This year Frank & Wrigley were able to get away and join us
for this hunt.

As a breeder of working goldens nothing is more satisfying than to see a puppy
that you have raised from a tiny little, bottle sucking, rug rat to grow up
and turn into a bird hunting machine, just as you had hoped it would.

On this trip, I was fortunate enough to christen our hunt by harvesting the
first rooster of the trip, and then doubly blessed by having Wrigley there
to retrieve her first wild bird ever! As a breeder of working goldens, what
could be more completely satisfying?

I think that if you look closely at both Wrigley and I you can see two
perfectly fulfilled hunters!