Welcome to Kelly Run Farm
A Boarding Kennel specializing in boarding Retrievers and other large dogs.
(We love little dogs too!)
Dyxie and I decided to enter the boarding business because we were unhappy with the boarding choices available to us when we travel. Our dogs are working retrievers and small runs with little or no exercise are just not what they need. We believe that our experience with handling, training and loving working retrievers gives us a great deal of insight into what "Bigger Guys" need. Of course this is just as true with the "Little Guys" as well.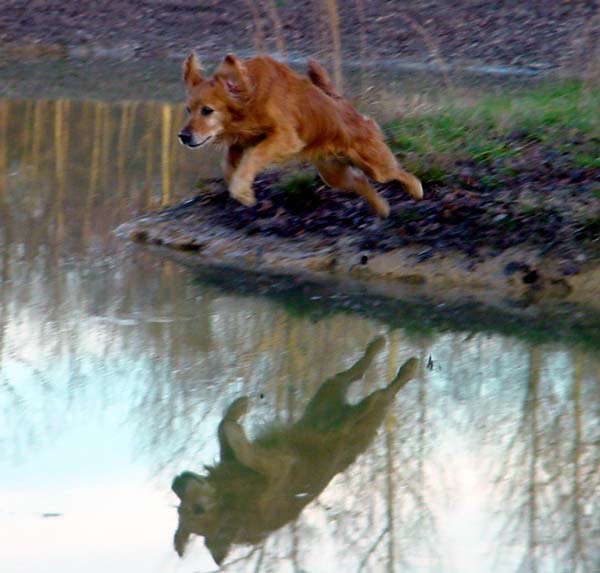 Your dog will love staying with us. We have what amounts to a doggie heaven. We turned our wooded twenty acres into usable training grounds, digging ponds, clearing land. We have put in many, many hours of work in order that our dogs, and now your dogs, can have a really nice place to enjoy themselves.
When we began boarding other people's dogs, it was immediately obvious that all of our boarders really enjoy and look forward to their walks in the country. We really do live in the country, and it is not unusual to see deer and wild turkeys. We have ducks in our ponds and occasionally a flight of wild geese will drop in to say hello!
Our goal here is to provide your pet with a safe, healthy and happy environment where he or she can enjoy him or her self while you are away. So go ahead, enjoy your well-earned vacation and don't feel guilty about traveling without your "Best Friend." He or she is going to be having the time of his life!
We invite all of you to come out and give us a visit. (Just call and let us know you are coming.)
We know most of you have never seen working retrievers perform. So come on out and let us show you why this sport has so absorbed our lives.
Clarke & Dyxie Pauly